Two groups of MArch students from Manchester School of Architecture have recently seen success as part of the international Solar Decathlon Challenge, which challenges participants to design and build efficient and innovative buildings powered by renewable energy.
The competition, run by the U.S. Department of Energy, takes place over two semesters and has four divisions for submissions; urban single-family housing, multi-use multi-family, suburban single-family and attached house. The groups from MSA's Advanced Practice Atelier explored the urban single-family and multi-family housing divisions.
Team 3, consisting of Aaishwarya Jain, Adwoa Botchey, Tasawar Rahim, Hieu Trung Tran (Hieu), Jemma Baldwin and Maria Gorreth Tavares Duarte, submitted to the multi-family category, and have been invited to return and present their work as part of an online exhibition. The team developed a flexible building that can be customised to meet the needs of the residents.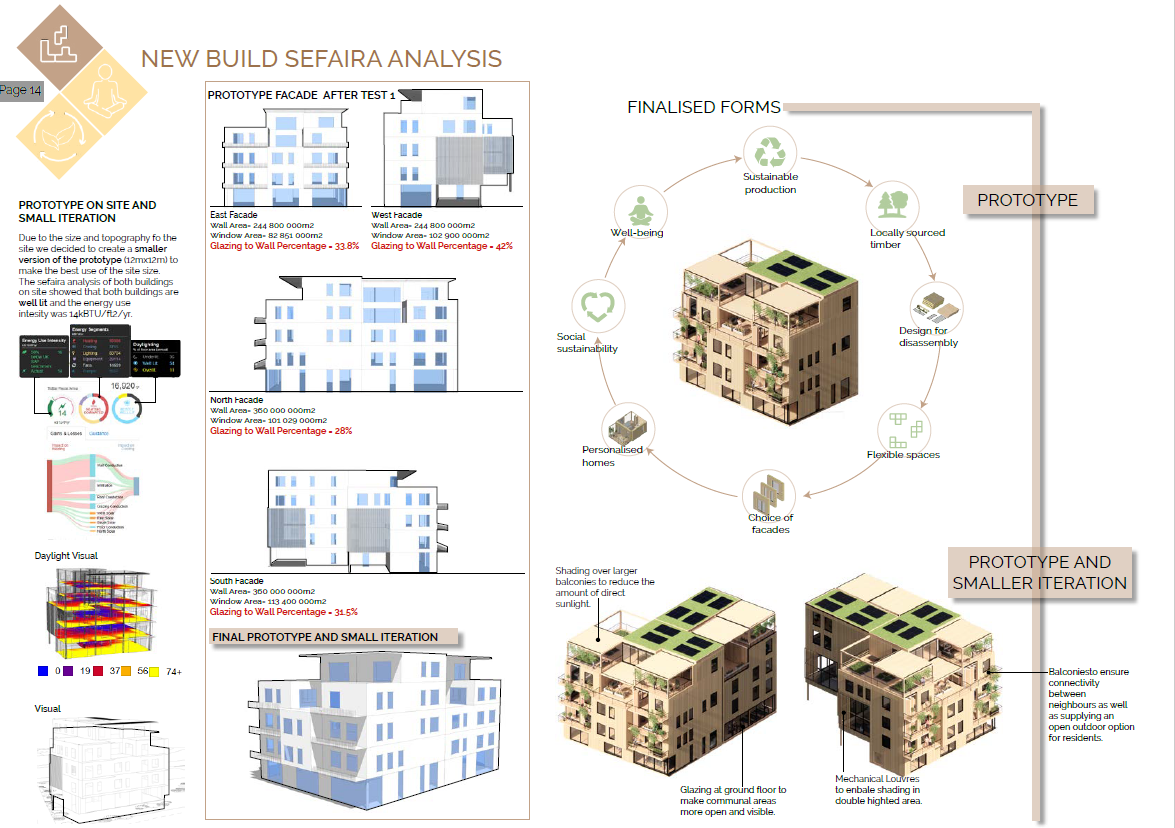 Student Maria Gorreth Tavares Duarte outlined the main inspiration behind the project as "The challenges of working from home during the Coronavirus pandemic. We all worked from home during the lockdown, and we combined our different experiences and difficulties to design the Urban Forest: Mixed-Use, Multi-family Homes. For example, one of the main challenges I faced working from is home was separating work and recreation at home as I was doing both in the same space. Considering this, we designed a modular house that can be adapted to support family life while promoting sustainable living and the need for flexibility that comes with multi-family housing."
Teammate Jemma Baldwin further explained that: "The primary inspiration behind our design was developing a prototype with integrated flexibility to suit the changing needs of families in an urban environment. Those families could be multi-generational, might require home working spaces during Covid lockdowns or might require different gathering spaces for cultural reasons; we wanted to design inclusively."
"We have seen quite a rapid change in the way in which we live our day-to-day lives in the past year" says Adwoa Botchey. "We wanted to design something that felt relevant to today's situation from working at home to having to go to school from your laptop. It was essential for us to design a building that tailored for any type of change within a family dynamic."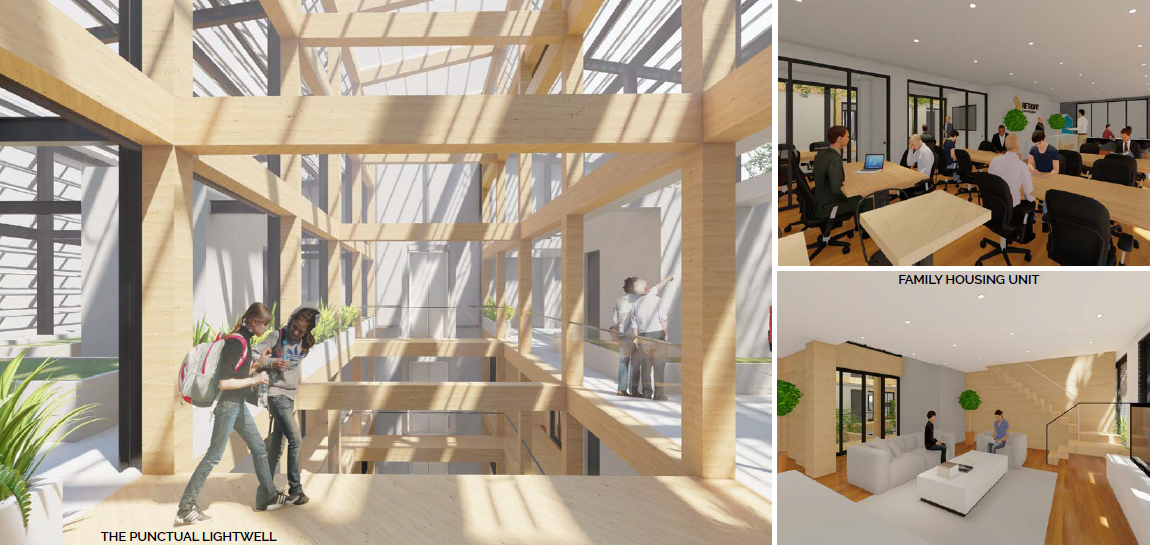 "I'm particularly excited about the upcoming online exhibition because I loved creating the 3D Visuals for our project, it's always exciting to see something we've worked so hard on almost come to life in this form."
The project was driven by strong ideas of sustainability, whilst ensuring it provides an opportunity for increased human interaction and developing a sense of community
Team 6 members Rodica Earmacov, Alina Marinescu, Iulia Nastasache, Oana Neacsu, Adriana Tomeci and Neda Vaiciulyte submitted to the urban single-family housing category, and have been selected as finalists to compete for the top prize at the National Renewable Energy Laboratory in Golden, Colorado in April. The groups' design focuses on the use of sustainable materials to create a stackable structure that brings native fauna into urban contexts.
"We chose to go out of our comfort zone and experiment with designing a building in a completely different climate!" Says Alina Marinescu. "We chose Brisbane, Australia as the site for our project and many of the design decisions that followed were informed by that. This opened up a whole new perspective for us - it was a great learning experience, and we were lucky to receive a lot of guidance and support from our tutors."
"Working together, especially during a period of lockdown proved to be one of the key motivating drives that pushed us to do our best in the project! It was a challenge to keep up with the university work while still completing our competition submission, but we are really happy with our project and we are all looking forward to presenting it in front of the jurors!"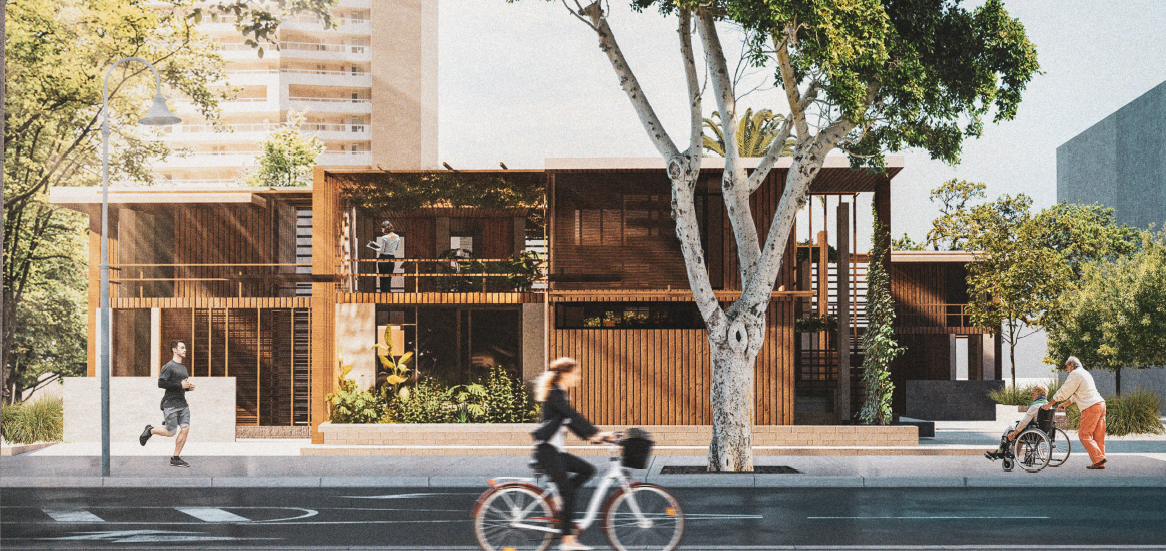 "The students worked as cohesive teams like small architectural practices focused on developing prototype housing. Each team focused their creative efforts on the future of homeworking triggered by the Covid crisis" says Atelier co-lead Amy Hanley. "Our dedicated team of architects and engineers experienced the student's tireless commitment to testing and developing housing with the resident's wellbeing and environmental sustainability at its heart".
"Team 3 developed a flexible building that could adapt to the changing needs of multi-family and multi-generational living. Residents would be able to adapt their sustainable homes using a kit of parts outlined in a manual"
Our Advanced Practice Atelier continually seeks to engage with real life projects and competitions that engage students creativity and passion to improve our built environments
"Team 6 created a verdant shaded oasis in Brisbane. Rethinking the large single-family house, the team used modern methods of construction to propose stackable houses. It was great to see how an Urban large single-family home could be designed with low energy demands and a small carbon footprint using passive design principles"
The biennial competition was established in 2002, and has since attracted over 23,000 participants from 23 countries across the world. Technologies and solutions used in Solar Decathlon homes have advanced the residential building industry both in the United States and abroad.
Explore a fly-through of Team 3's project here: https://vimeo.com/483896611