Manchester School of Architecture (MSA) will today launch MSA 2021, a digital exhibition celebrating the achievements and work from final year students.

This online exhibition showcases the work of more than 350 graduating students from across BA (Hons) Architecture, Master of Architecture (MArch) and Master of Landscape Architecture (MLA) alongside insights from academic staff about all aspects of the school.

MSA 2021 will launch tonight at 5.30pm with an exclusive in-conversation event with Professor Kevin Singh, Head of School, and former RIBA President Stephen Hodder, Professor of Architecture, which will be broadcast live on the Manchester School of Architecture YouTube channel. The show will close with an awards night for students on June 18.
Professor Kevin Singh, Head of Manchester School of Architecture, said: "As this is my first year at the school, I've been incredibly impressed with the work on display in terms of the design processes, ideas, innovations, design proposals and beautiful drawings.

"Although we are all extremely disappointed that we aren't able to have our renowned end-of-year show in person again, it's testament to our students that the quality of the work is as good as ever! I'd like to thank each and every one of them for their contribution to the school and their place in our history and wish them well in the future pursuits."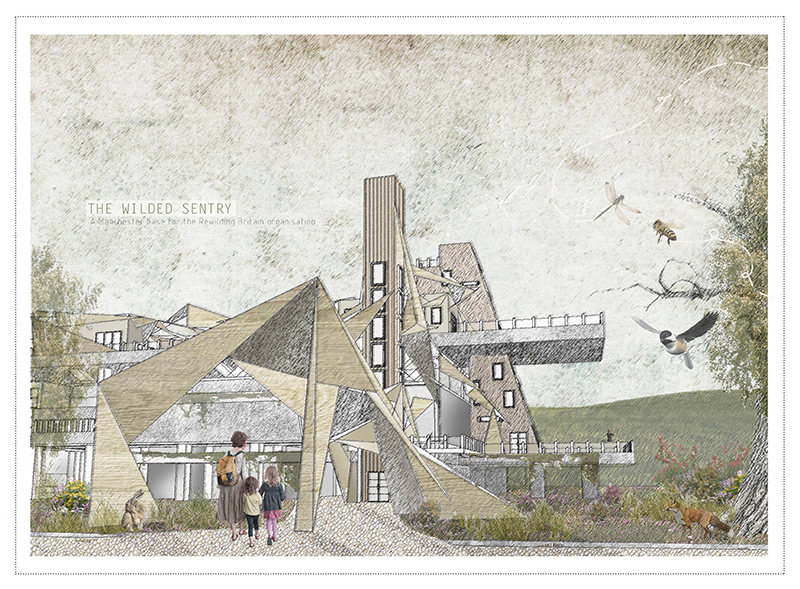 The BA (Hons) Architecture programme integrates design-led ateliers, also known as studios, humanities and technologies, allowing students to discover what becoming an architect might mean for them.

Students engaged in live projects and real-world challenges, ranging from mitigating climate change to constructing a more inclusive public realm.

For example, Hanna Ahmad Baihaki's project explores the journeys, stories and experiences of women seeking refuge in the UK, demonstrated through a Women Asylum Seekers' Archive and a Refugee Support Centre.
Matt Norris' project The Wilded Sentry: A Manchester base for the Rewilding Britain organisation reimagines a former site of industrial food preparation operating on human exceptionalism – the Manchester Abattoir – for a sustainable future.
The Master of Architecture course is made up of seven ateliers, alongside research and live projects. Students from each atelier have presented work across focussed areas including climate change, sustainability, feminism and material consumption.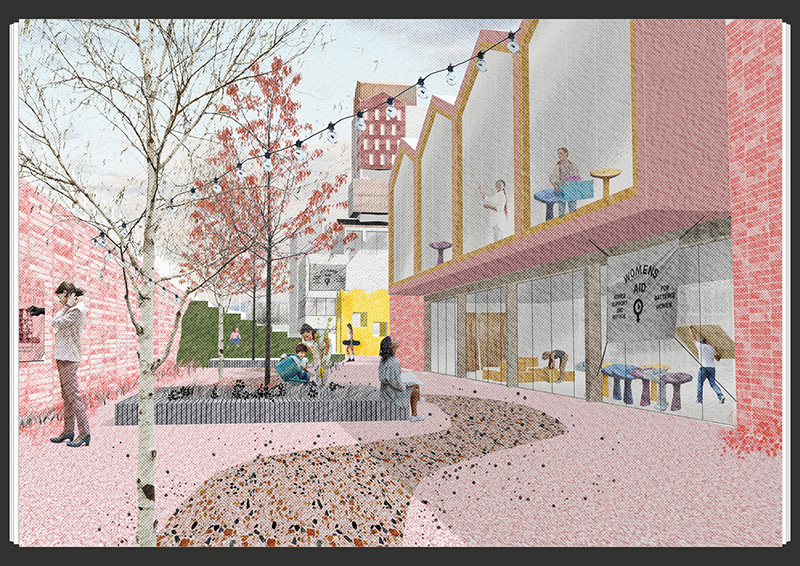 Freya Cooper Williams' The Women's Inclusive Project (WIP) intends to start a network as a work in progress, focussing on women who are suffering from housing inequalities in Manchester.

Meanwhile, Grace Corris and Lucy Goodier's project The Avian Experience aims to transform the dilapidated Grade II listed Gorton House with a re-use strategy that sensitively preserves the site narratives.
Students from the Masters in Landscape ateliers have explored the relationships between waterways and their urban context, specifically looking at the Medlock, one of the rivers which drove Manchester's development into an industrial powerhouse.

Students have also investigated agents of resistance and change along and adjacent to the Fallowfield Loopline (Floop). Built upon the remnants of a decommissioned railway line, the Floop now forms part of the National Cycle Network running the breadth of Manchester.

Charlie Griffin and James Stephenson's project Brickworks aims to increase biodiversity and to use ecological tools to change human attitudes towards urban nature on a post-industrial site bisected above ground by the Fallowfield Loop and below ground by the culverted Fallowfield Brook.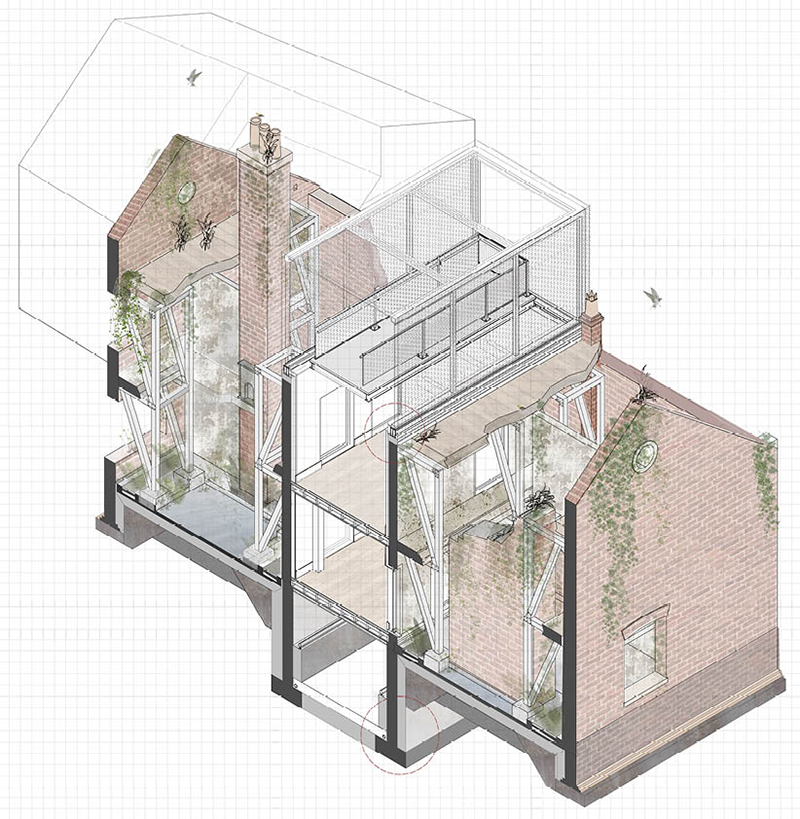 Dr Richard Brook, Reader in Architecture at Manchester School of Architecture, said: "Little did we expect to be presenting solely online again, 12 months after our first web-based degree show. As architectural design has moved more and more into the digital realm, we are well placed to be able to work in this way, and now look forward to a more normal future.

"Once again though, the resilience, creativity and talent of our students has shone through. We think this group of young people will help shape the way we recover from the impact of the last two years."

You can find out more about Manchester School of Architecture and explore student profiles on the MSA 2021 website.