In this article, originally published in 'Multiform: Architecture in an Age of Transition' (Architectural Design, January 2021), Editor Neil Spiller examines the work of architectural designer and MSA tutor David Connor in the context of stylistic transitions in architecture.
Picture London in the early 1970s, still trying to heave itself out of the postwar mire, with swathes of the city left for dead and the happy, chilled hippie, trendy youths of the late 1960s about to transition into nihilistic, angry punks, which themselves would quickly metamorphose into the narcissistic flamboyance of the New Romantics by the end of the decade. On the whole London was depressed and prurient, its social divide bigger than ever. However these blossoms of colour and controversy – though the exception rather than the rule – were setting precedents that would echo throughout fashion, music and popular culture for many years and still do.
Enter an art-school student from Birmingham into the rarefied atmosphere of the louche Royal College of Art (RCA). For architectural designer David Connor this was a great catalytic time. It was the start of a career that has taken him from associating with punk royalty and being interior designer to New Romantic idol Adam Ant, to architecting an iconic house in California's Napa Valley, working on Vivienne Westwood stores and on projects with Anish Kapoor, and designing the interior of the Atlantic Bar & Grill – a social nightspot just off London's Piccadilly Circus for those in the know – and much, much more.
Then, the RCA Master's in Interior Design was run by Sir Hugh and Lady Casson (architect Sir Hugh had been Director of Architecture of London's Festival of Britain of 1951). The RCA's students had a sense of free and easy expectation that they would become design leaders. For Connor, this sense of design privilege and the extensive RCA network was creatively life-affirming and empowering, if at times a bit daunting. In 1974, in his second year, the Cassons moved on and the replacement head was architect John Miller who latterly delivered RIBA accreditation for the course, which was subsequently renamed 'Environmental Design' and became much more architectural. So this combination of Casson's flag-carrying for the embryonic discipline of interior design, and Miller's white, clean and neat British Modernism, created a unique learning environment for the young Connor.
Detritus Chic to Eccentric Camp
In 1976, Malcolm McLaren and Vivienne Westwood's small shop 'Sex' at 430 King's Road in London's Chelsea needed a new design. The shop was rebranded as 'Seditionaries' and was to be the place from which punk emerged. Connor was introduced to McLaren and Westwood by fellow RCA graduate Ben Kelly. After developing some design ideas together, Kelly bowed out and Connor took on the design duties, working closely particularly with Westwood. The interior included a collage made by Connor of bomb-damaged Dresden. The shop became a mecca for aspiring anarchic punks. Connor's contribution was rewarded with the princely sum of £30 and 'a full set of [Westwood's] clothes. My mother threw them away later because the shirt had a swastika on it. I saw in a newspaper, recently, that they would be worth around £50K(1).
By 1979, McLaren and Westwood needed again to transform their small shop, to cater for the new breed of New Romantics, and called it 'World's End'. Again Connor was enlisted, this time to help tease out a new vision for the facade, which includes the now-iconic clock that runs backwards.
Connor established a partnership with fellow RCA graduate Julian Powell-Tuck in 1978. In 1982 they were joined by architect Gunnar Orefelt and became Powell-Tuck, Connor & Orefelt (P-TCO). McLaren's impresario duties expanded to more than managing the Sex Pistols and included New Romantic acts such as Bow Wow Wow and Adam and the Ants. Connor was asked to design an apartment for Adam Ant. For this commission, with P-TCO he took a rather scenographic approach. The use of much drapery, slightly overscaled furniture and a marbled ubiquitous painted surface on all walls and furniture gave the design a theatrical, slightly surreal feel – a set for Ant to stand and deliver his New Romantic lifestyle.
Ant's songwriting collaborator and guitarist, Marco Pirroni, also benefited from a small, extraordinary interior hallway/dining room authored by Connor. 'Around 1982, Marco said he wanted something different. When I showed him the drawings he said, "not that different".' The project came to fruition in 1985. The scheme is much more architecturally anarchic and punky than the more postmodern, classical Ant flat. Canted architraves, dados, skirtings and nonorthogonal doors all contribute to an otherworldly space that messes with the staid rules of human spatial perception – perspectives are contorted. Once more paint is called into Connor's service to blur the distinctions between wall, floor and architectural features and furniture, but here paint is paint and is not trying to fool the eye into thinking it is marble. However, the inspiration for the design is not to be found in the tatty, gob-encrusted irreverence of punk but of a much older movement: 'I always loved German Expressionist painting and cinema.' Connor had also taken to animating his drawings with strange bird-like human characters with angular shoulder pads, pushed-back or fallen-over chairs and spilt wine. Here at the Pirroni flat one of the crucial design drawings is populated with a bird-like figure, staring out at us, which interior design writer Drew Plunkett has attributed to a reference to the vampire from one of the greatest and most influential German Expressionistic films, FW Murnau's Nosferatu (1922)(2). The audaciously brilliant cacophony of Pirroni's space can be seen as a microcosm of much that was happening in the early to mid-1980s in London, at the Architectural Association, in furniture design, art and graphic design, condensed into an unruly, powerful décor.
Villa Zapu: A Heady Mix
In 1982 P-TCO was approached by a Swedish client who had bought a 130-acre (50-hectare) site in California's Napa Valley and intended to establish a new vineyard and build a house on top of a hill overlooking the site. It was Connor's first fully architectural project. 'In many ways I was too young to do this project, there were too many ideas in it.' To date, he had not built from new or structurally altered the projects he had worked on. This was virgin territory but clearly an opportunity not to be missed. For this project Connor reinvented his design persona again. Gone are traces of punk and New Romanticism, replaced by a gleaming white three-storey Modernist villa. The house was an original take on the spatial tactics, materiality and protocols of Modernism. This is no reworking of the tired dogmas of a movement then approaching three-quarters of a century old.
The final built project is an interplay between four formal architectural set pieces – the villa itself, the guest tower, a lengthy swimming pool between them, and the setting of these three elements in the landscape.
Connor's signature drawing style explored the external and internal spaces of the design: 'the very first drawings were best, where you swam from the main house to the guest tower'. His drawings are again peopled by the clients / Nosferatu / angular bird-like characters; sometimes a breast or nipple is glimpsed to add a soupcon of sexual frisson.
The anatomy of the house is one of a delicate balance between grandeur, domesticity and performative theatricality. It is modern yet has learnt from a variety of previous eras: there is something Egyptian about bits of it, something Art Deco about other bits and something of Deconstructivism in the way its wings twist and come to a point. No Le Corbusier-style ribbon windows here; windows are holes cut into thick walls framing views both to the outside but equally to the inside.
The performative preoccupations of the house, its client and its architect are perhaps best understood by viewing Villa Zapu – A Short Film About a House (1988)(3). On the one hand, the house is a confrontation to the clients, forcing them to find new ways to inhabit it; on the other hand, it is the backdrop for extravagant living, parties and posing choreographed around Connor's inimitable architectural set pieces, surprises and vignettes mixed with stark, ever-changing shadows and sunlight.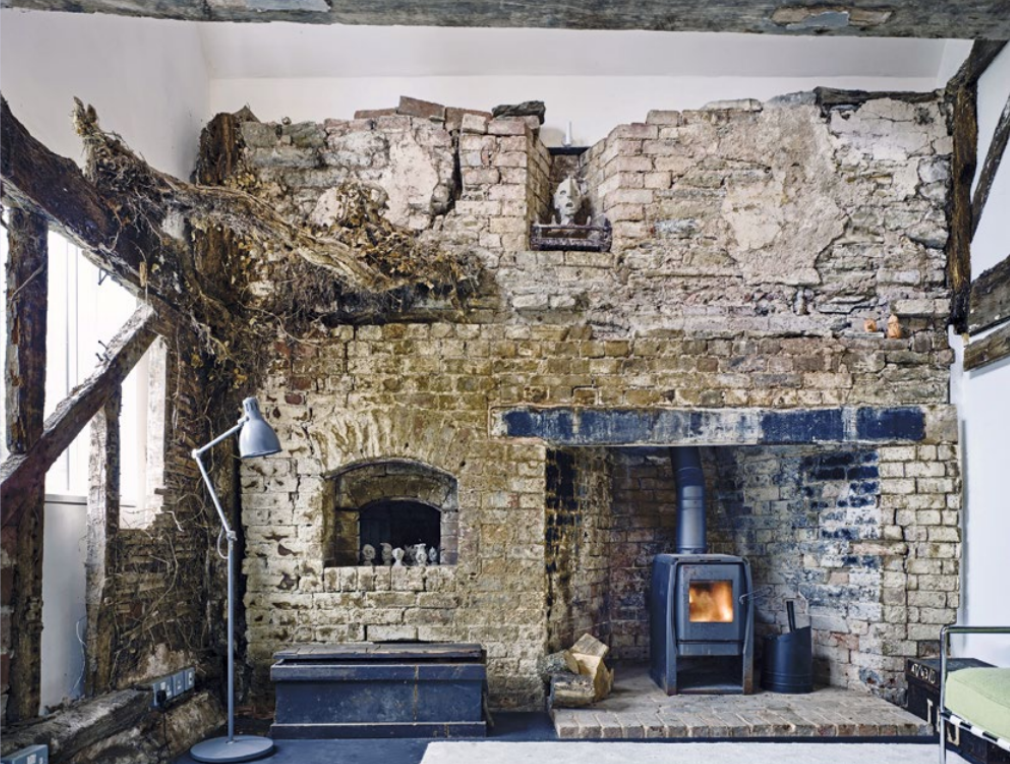 The simple device of Connor and others, in the film, donning the bird-like masks that so often feature in Connor's drawings effectively adds theatricality to the film and collapses its narrative space into a hybrid drawing/performance (not without uncanny-ness) which gets over the multiple aspects of the house's benign but questioning presence.
Connor throughout his career has worked internationally in Europe, Asia, America and the Caribbean and has been author of some spectacular projects that all exhibit his trademark eccentric architectural joy. Unfortunately, for the sake of this article only a few projects can be mentioned. A recent award-winning one is the beautiful Croft Lodge Studio.
The Romance of Ruins
Croft Lodge Studio is situated in the Herefordshire countryside in England and is a collaboration between Connor and Kate Darby Architects; they started working on it in 2012. It is in the grounds of a listed property and therefore listed itself, and originally was a small cottage and stables. Its found architectural condition was completely dilapidated and much of the property had already collapsed. Vegetation had grown through it and various animals had taken up residence over the years, yet it could not be demolished and a new build constructed.
The audacious and ingenious solution was to encapsulate the ruin completely in a new corrugated skin, to create the studio but to retain everything, as found: birds' nests, torn hessian sacking, spiders' webs, everything. What results architecturally is an extraordinary little building, sleek and simple on the outside. On the inside, its success relies on the dramatic contrast between the old structure and the tasteful, minimalist detailing of the new envelope, its fixtures and fittings. In 2017 the project won the Architects' Journal small projects award. A small fascinating detail of the project is a sculptural head Connor made for an alcove in the oven/fireplace reminiscent of the figures so prevalent in his drawings, staring out into existential space.
Whatever Connor works on, he brings a fresh, iconoclastic approach to his architecture. Each project is different yet iconic. If this issue of Architectural Design is about architectural stylistic transition and eclecticism, then Connor deserves his place in it: he has those qualities in spades.
Notes
1. All quotes are from email correspondence between the author and David Connor in April 2020.
2. Drew Plunkett, Provocations: The Work of David Connor, Lund Humphries (London), 2020, p 38.
3. Villa Zapu – A Short Film About a House, 1988
Text © 2021 John Wiley & Sons Ltd.
Thanks to Neil Spiller and the Architectural Design team for allowing us to share this article. Head here to view the original piece in the Wiley Online Library.